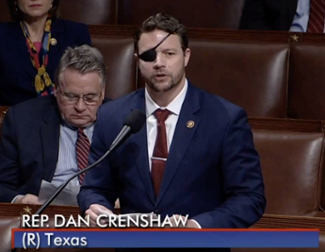 Click here or on the image above to view Crenshaw's remarks
WASHINGTON, DC – Representative Dan Crenshaw (R-TX) took to the House floor today to speak in support of the Coronavirus Aid, Relief, and Economic Security (CARES) Act. A full transcript of Crenshaw's remarks is included below:
"Businesses, large and small, through no fault of their own, are failing. We told them to shut down, and workers are losing their jobs. And let me clear something up for everyone: a lost job is a lost job, whether from a large business or small business.
"And it's devasting for families. Americans need help. Thankfully this bill covers it all, from direct aid to accelerated loans.
"But when every day counts in a crisis, this bill was delayed by Democrats unnecessarily for a totally unrelated progressive wish list. I don't get mad. But this made me mad. And In the end, the final bill today is barely different than last weekend, and the record will show that.
"We have it now and we should pass it now. It will soften the upcoming hardship, but we must not be complacent, for we have more difficult decisions ahead.
"How will we balance the opening of society with the pandemic? It's a tough question, and we won't be able to answer that question if the antics of this week continue. The country wants us to move forward together as Americans, not as petty, opportunistic partisans. We can beat this, but only if we do it together."
For more information on this legislation and the response to the coronavirus, visit crenshaw.house.gov/coronavirus-resources/.