Representative Dan Crenshaw (R-TX) is releasing an educational video series targeted toward students learning from home due to the coronavirus pandemic.
The four-part video series is titled "Crenshaw's Classroom" and provides a brief synopsis of little-known stories of American history that students may not have learned as part of their regular curriculum.
The first video in the series released today recounts the story of the American flag that became known as "Old Glory."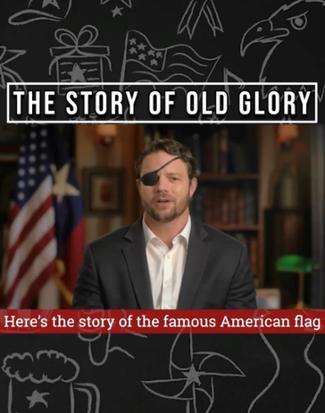 Click here or on the image above to view Crenshaw's video. A full transcript of the video is included below.


Hey kids!
Congressman Dan Crenshaw here. I know that you're stuck at home right now during what is likely the last month of school for you.
And if you're watching this, that probably means you are scrolling through social media trying to find something to distract you from your homework.
Before you move on to that TikTok video your friends have been telling you about – STOP! I have a story to tell you that you might not hear in history class.
Here's the Story of the famous American flag that became known as "Old Glory"
You've heard of Betsy Ross.
You've heard of the flag that inspired the Star Spangled Banner.
But have you heard the story of Old Glory?
The story begins in the early 1800's, when a sea captain named William Driver of Salem, Massachusetts, was gifted a giant, 24-star American flag for his birthday.
While setting out for sea one day in his ship, called the Charles Doggett, Driver hoisted the flag proudly above his ship and is said to have shouted "Old Glory!" as the flag rose above his vessel.
After his sailing days were over, Driver moved to Tennessee in 1837, where he proudly raised Old Glory above his home.
But trouble was to come. On June 8, 1861, Tennessee seceded from the Union to join the Confederacy.
Shortly thereafter, Confederate soldiers demanded that William Driver take the flag down from his property. Driver – a patriot through and through – refused to remove the flag.
Knowing that the Confederate troops would soon return to destroy the flag, Old Glory was concealed inside a quilt in Driver's home.
Even after numerous raids of the Driver household, Confederate troops never discovered Old Glory.
The flag remained in hiding for nearly a year until February 25, 1862, when General Ulysses S. Grant and his Union forces recaptured Tennessee.
The story goes that on that day, William Driver took the flag out of hiding, and marched it through the streets all the way to the capitol building. Climbing to the top of the capitol dome in Nashville, Driver raised Old Glory high above the streets for everyone to see – surely lifting the spirits of Union soldiers on the ground.
Imagine that. What would you have done if you were William Driver? Some may say that it was foolish for Driver to risk his life over a piece of cloth. "It's just a flag," some might have argued. "Why go through all of this trouble to protect it?"
Because it isn't "just a flag." The American flag is a symbol of freedom and liberty, ideals upon which our country was founded. That is why William Driver risked his life to protect it. At a time when our country was literally ripping itself apart during the Civil War, safeguarding the American flag was a mission Driver took seriously. And it's a mission we all should commit ourselves to today.
Old Glory is now faded and weathered, but it still is an impressive symbol of American freedom. The flag is now proudly displayed at the American History Museum in Washington, D.C.
If you ever take a class trip to the nation's capital and visit the museum, you can show your friends the giant flag sitting in a glass enclosure and tell them all about the story of Old Glory.
Thanks for listening.