Congressman Crenshaw here,

This week, I called for Juneteenth to be a federal holiday and also signed on to Senator Tim Scott's JUSTICE Act to implement thoughtful policies that will support our police officers and communities in which they serve. I also released the final video in my Crenshaw's Classroom series, with a special message for Texans.

Please reach out to my offices if you have a concern, want to hear what we're working on in Congress, or are having trouble with a federal agency. I have a full team in Texas and in the nation's capital ready to assist you. Be sure to stay up to date by following me on Twitter, Facebook, and YouTube. For a behind-the-scenes look, follow my staff's official Instagram account.

Now, let's catch up.
we should make juneteenth a federal holiday
Juneteenth represents the American story. The injustice of slavery was broken 155 years ago today in Texas. It is a story founded in the best ideals ever written down, and it is a story about those ideals overcoming the sins of humankind.

Texas was the first state to establish Juneteenth as a state holiday, and it should be a federal holiday as well. That's why I'm calling for Juneteenth to be a federal holiday to serve as a reminder that our great country is always striving to live up to our ideals.
i'm proud to cosponsor tim scott's justice act
?The JUSTICE Act put forth by Senator Tim Scott (R-SC) is a serious, thoughtful approach to address police brutality and improve law enforcement. All of us - cops especially - want to make progress on this issue. I am urging my Democrat colleagues to come to the table and work with us to find a solution. Click here to learn more about the JUSTICE Act from Senator Scott.

This is the commonsense approach we need. The wrong solution is vilifying cops, calling for the defunding of police, and encouraging a breakdown of law and order. It must stop.

We owe our police officers respect and gratitude for their selfless service to our communities. We can do this while also calling for thoughtful solutions to improve training, transparency, and accountability in law enforcement.
how texas got its special shape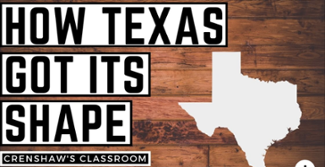 ?This week I released the final video in my Crenshaw's Classroom educational series. This one is specifically for Texans.

From Texas-shaped houses to Texas-shaped food, people have a love for the unique shape of the Lone Star State. So how did the great State of Texas get its unique shape? For the answer, I take you back to 1850.
ICYMI

Don't miss my latest "Hold These Truths" podcast! Find all episodes here.

KHOU: MATTRESS MACK OPENING TUITION-FREE CHARTER SCHOOL THAT OFFERS VOCATIONAL TRAINING AND MORE

WSJ: What Covid Models Get Wrong




Office Locations
WASHINGTON, DC OFFICE
413 Cannon HOB
Washington, DC 20515
Phone: (202) 225-6565

KINGWOOD OFFICE
1849 Kingwood Dr
Suite 100
Kingwood, TX 77339
Phone: (713) 860-1330

SPRING OFFICE
9720 Cypresswood Drive
Suite 206
Houston, Texas 77070
Phone: (281) 640-7720