Congressman Crenshaw here,

We're continuing to fight back full force against the coronavirus, and I'm continuing to fight back against petty, partisan finger pointing during this pandemic. As this Easter Weekend will be much different than any we have experienced in recent memory, I also wanted to share an uplifting message about how we can overcome the challenges we face. There's also good news for Houston: FEMA announced this week that four drive-thru testing sites will be extended until May 30.

As a reminder to Texans in the Second District, I have established a resource page on my website to keep our community updated on the latest developments. The page provides tips from the CDC on how to stay healthy, additional resources for more information about coronavirus, and updates on the federal response to this situation. Please visit crenshaw.house.gov/coronavirus-resources for more information.

Please reach out to my offices if you have a concern, want to hear what we're working on in Congress, or are having trouble with a federal agency. I have a full team in Texas and in the nation's capital ready to assist you. Be sure to stay up to date by following me on Twitter, Facebook, and YouTube. For a behind-the-scenes look, follow my staff's official Instagram account.

Now, let's catch up.

A message of strength on easter weekend
This Easter Weekend will be unlike any that we have experienced in recent memory. Churches are not holding services and we aren't able to gather with our friends and loved ones as we would like to. These are trying times.

But during these trying times, I'm reminded of one Bible verse in particular - Romans 5:3. This verse says that "... We rejoice in our sufferings, knowing that suffering produces endurance, and endurance produces character, and character produces hope, and hope does not put us to shame, because God's love has been poured into our hearts..."

Click here to listen to more.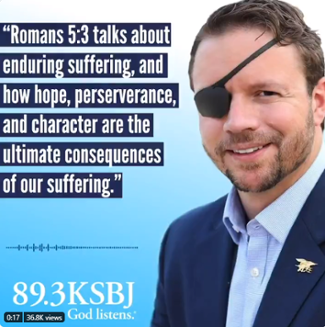 There are two infectious diseases we need to combat
There's another contagion spreading: bad-faith, opportunistic finger pointing in our public discourse. We can't have the honest and necessary discussions ahead without stopping this spread also.

In a recent op-ed in The Hill, I write about how we need to engage in serious debate without the heated rhetoric and partisanship that has infected our country. No leader - from a mayor to the president - wants our country to fail. If we all start from that common understanding, we might avail ourselves of the tools to defeat this common enemy. Click here to read my op-ed.



BIG NEWS: EXTENSION FOR HOUSTON TESTING SITES
Good news for Houston. The Federal Emergency Management Agency (FEMA) announced it would be extending Houston's COVID-19 drive-thru testing sites through May 30. Expanding our testing capabilities is crucial to effectively tackling coronavirus in Houston.

I want to thank the excellent team at the Texas Division of Emergency Management and the White House Coronavirus Task Force for working to secure this extension, and for continuing to work with me in prioritizing the health and wellness of Texans.

Click here to read more.

ICYMI
Don't miss my latest "Hold These Truths" podcast! Find all episodes here.
Washington Examiner: Dan Crenshaw slams Hillary Clinton coronavirus attack on Trump and defends president's response

WSJ Editorial: Paycheck Protection Rejection

National Review: How Good Friday Helps Us Cope with the Pandemic


Office Locations
WASHINGTON, DC OFFICE
413 Cannon HOB
Washington, DC 20515
Phone: (202) 225-6565

KINGWOOD OFFICE
1849 Kingwood Dr
Suite 100
Kingwood, TX 77339
Phone: (713) 860-1330

SPRING OFFICE
9720 Cypresswood Drive
Suite 206
Houston, Texas 77070
Phone: (281) 640-7720