Congressman Crenshaw here,

I'm beginning to examine a national mobilization strategy to balance reopening the economy and battling the coronavirus pandemic. I'm also correcting the record on false narratives attacking the administration's response to coronavirus, and introducing legislation that would help hold China accountable for their lies and coverup that allowed the coronavirus to spread across the world.

As a reminder to Texans in the Second District, I have established a resource page on my website to keep our community updated on the latest developments. The page provides tips from the CDC on how to stay healthy, additional resources for more information about coronavirus, and updates on the federal response to this situation. Please visit crenshaw.house.gov/coronavirus-resources for more information.

Please reach out to my offices if you have a concern, want to hear what we're working on in Congress, or are having trouble with a federal agency. I have a full team in Texas and in the nation's capital ready to assist you. Be sure to stay up to date by following me on Twitter, Facebook, and YouTube. For a behind-the-scenes look, follow my staff's official Instagram account.

Now, let's catch up.

we can do both: reopen the economy and Battle Coronavirus
?Our tactical retreat in response to coronavirus was never meant to be a perpetual retreat. We always intended to go back on offense, and it's time to do that now.? ?We can battle the pandemic alongside an open economy. ?
In a recent op-ed in the Houston Chronicle, I call for a national mobilization strategy to safely re-open the economy. By focusing our efforts on increasing testing, expanding our health care capacity, and improving public education to prevent further outbreaks, we can do this sooner than later. Click here to read more.

debunking the left's coronavirus narrative
?You are being bombarded with the left's hyperbolic and hypocritical attacks about the Trump Administration's response to coronavirus. It's disingenuous and counterproductive, so it's time to debunk this false narrative with facts.

Click here or on the image below to watch.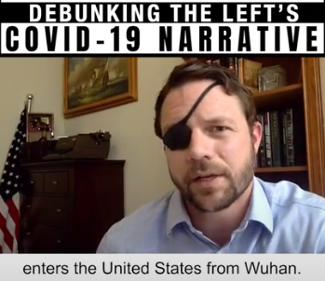 holding china accountable for coronavirus pandemic

We need to hold the Chinese government accountable for their malicious lies and coverup that allowed the coronavirus to spread across the world. The communist regime expelled journalists, silenced whistleblowers, and withheld vital information that delayed the global response to the pandemic. Simply put: their actions cost American lives and livelihoods.

That's why I've introduced legislation with Senator Tom Cotton (R-Arkansas) to help ensure China's actions are not without consequences. My bill would allow Americans to sue China in federal court to recover damages for death, injury, and economic harm caused by the coronavirus.

Click here to read more.

ICYMI
Don't miss my latest "Hold These Truths" podcast! Find all episodes here.
Daily Caller: Dan Crenshaw Dismantles WaPo Writer's Attempt To 'Rewrite History' On Trump's Coronavirus Response

ABC 14 News: Lawmakers Introduce Bill Allowing Americans To Sue China Over Coronavirus

Associated Press: China didn't warn public of likely pandemic for 6 key days


Office Locations
WASHINGTON, DC OFFICE
413 Cannon HOB
Washington, DC 20515
Phone: (202) 225-6565

KINGWOOD OFFICE
1849 Kingwood Dr
Suite 100
Kingwood, TX 77339
Phone: (713) 860-1330

SPRING OFFICE
9720 Cypresswood Drive
Suite 206
Houston, Texas 77070
Phone: (281) 640-7720