WASHINGTON, D.C. -- Congressman Dan Crenshaw (R-TX) and 139 House Republicans sent a letter to the United States Attorney General Merrick Garland and Acting Director of the Bureau of Alcohol, Tobacco, Firearms, and Explosives (ATF) Marvin Richardson urging the Department of Justice to withdraw proposed guidance on stabilizing braces.
In the letter, the lawmakers express "deep concern" over the guidance because it "jeopardizes the rights of law-abiding gun owners and disabled combat veterans across the country."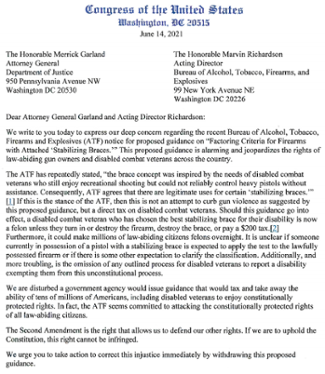 CLICK HERE TO READ THE FULL LETTER
This letter comes after Crenshaw publicly pressed the ATF to rescind the proposed rulemaking in December, saying that the rulemaking would "unjustly make law abiding gun owners into criminals."